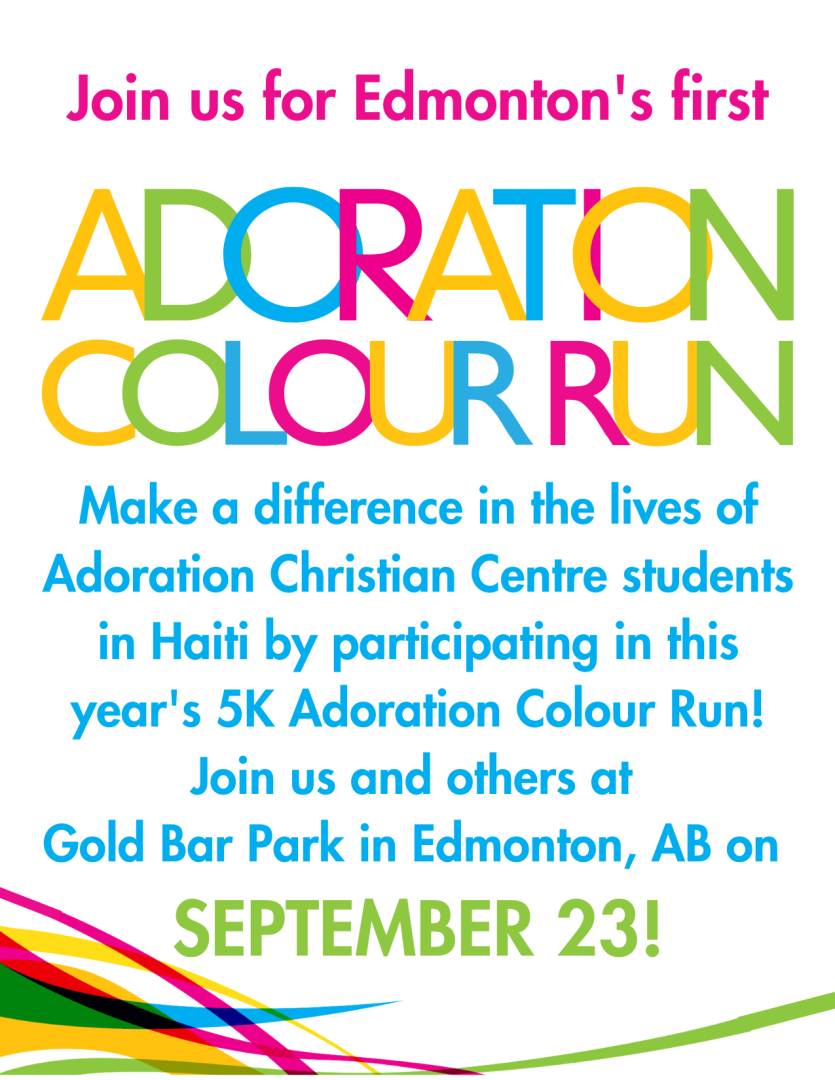 PARTICIPATION OPTIONS:
1. Register and walk/run in-person on September 23, 2023 through Gold Bar Park in Edmonton. Registration is from 8:00-8:45 am, with the run to start at 9 am. *Note: Registration closes on Wednesday, September 20.
2. If you are busy on September 23, you can sign up for the 5km walk/run and participate when you can. Register and raise funds by requesting sponsorships. Please send us pictures of your own run or tag us on social media, so we can share the fun!

3. If you are unable to do the walk/run, you still have an opportunity to be a blessing to the Adoration Christian School by making a donation. Any donation is greatly appreciated!
FOR MORE INFORMATION, VISIT www.adorationcolourrunab.net
55%
$16,542.00 raised of
$30,000.00 goal
$30,000.00
goal
$16,542.00 raised of $30,000.00 goal
Viher kids

1 Member

Alberta, CA

$0.00 raised of $1,000.00 goal

NGeuse

1 Member

Alberta, CA

$150.00 raised of $100.00 goal

Derek Pothoven

2 Members

Alberta, CA

$195.00 raised of $500.00 goal

Sandra, Sarena, Alanna, Peter, Josie, Maddy, Talia

Sandra, Sarena, Alanna, Peter, Josie, Maddy, Talia

1 Member

Alberta, CA

$400.00 raised of $1,000.00 goal

DeWit Family

1 Member

Alberta, CA

$600.00 raised of $1,000.00 goal

Legs Miserables

3 Members

Alberta, CA

$750.00 raised of $1,000.00 goal

Natalia Bos

0 Members

Alberta, CA

$0.00 raised of $50.00 goal

Scrambled Legs

2 Members

Alberta, CA

$350.00 raised of $1,000.00 goal
Kaitlyn and Rebecca Geusebroek

Kaitlyn and Rebecca Geusebroek

Team: PICS XC

$285.00 raised of $500.00 goal

Kaitlyn and Rebecca Geusebroek

Kaitlyn and Rebecca Geusebroek

Team: PICS XC

$285.00 raised of $500.00 goal

Leanne Kobes

Team: The Kobes'

$0.00 raised of $500.00 goal

Cheryl and Randy Deleeuw

Team: PICS XC

$60.00 raised of $500.00 goal

Tricia & Brienna Smeding

Team: PICS XC

$450.00 raised of $500.00 goal

Travis Jagersma

Team: We're not fast but we're slow.

$50.00 raised of $200.00 goal

Tricia & Brienna Smeding

Team: PICS XC

$450.00 raised of $500.00 goal

Jess, Kara & Grant DeWit DeWit

Team: DeWit Family

$200.00 raised of $500.00 goal
Laurenne Wattel
$1.00
for Edmonton's Adoration
2 months ago
Anonymous
$200.00
for Edmonton's Adoration
2 months ago
Laurenne Wattel
$1.00
for Edmonton's Adoration
2 months ago
Anonymous
$200.00
for Edmonton's Adoration
2 months ago